France Dimancheprovides celebrity gossip with a human angle, helping readers identify with and feel close to their favourite stars. The empathic approach is joined by a narrative and lyric style. 
734 000
Readers
ACPM ONE 2017
250 834
Copies
ACPM OJD DFP 2018 (DSH)
956 000
Site-centric Unique Visitors
AT Internet – May 2019
15 900
Followers
June 2019
Every week, with emotion and intensity, France Dimancheprovides updates on France's leading celebrities… interviews, exclusive insights, moving anecdotes, pet likes or dislikes…
All thecelebrity gossip, news stories and magazine pages: wellness, homes and gardens, cookery, nature and animals, puzzles, your rights, local attractions, nostalgia, horoscopes, readers' letters…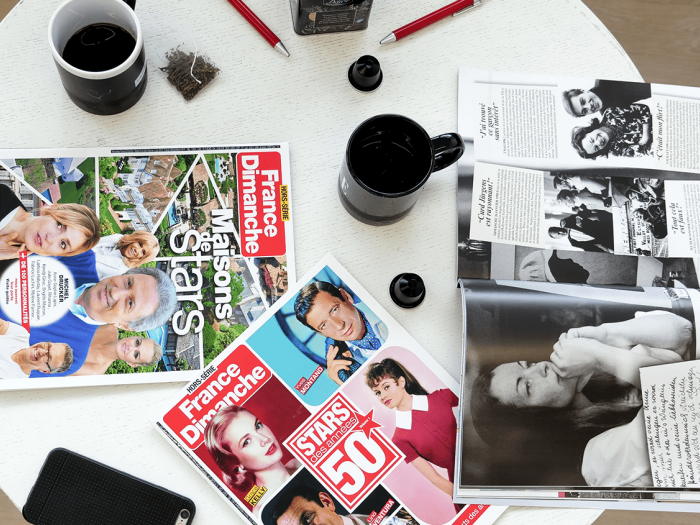 Hors-séries France Dimanche
Find the special issues of France Dimanche in store, with each new edition focusing on the topics that interest you for even more emotion, revelations and exclusive photos!
A digital showcase forFrance's top celebrity weekly, the website had to join the digital landscape. For over ten years, the editorial team has brought its loyal online readers the hottest news about our favourite celebrities. You can also find practical information, health, wellness, horoscopes and gardening tips.
Subscription
Digital
Promotion
Marketing
Writing
Abonnement France Dimanche
Philippe Callewaert
Web Editorial Manager
France Dimanche
Marine Bos
Head of promotion
Ici Paris, Public
Camille Burnier Zink
Deputy Director responsible for
ELLE - VERSION FEMINA - PÔLE ENTERTAINMENT
Victoire Berger
Advertising Director
France Dimanche, Ici Paris, Public
Myriam Palomba
Deputy Celebrity Director - Public,France Dimanche et Ici Paris
Managing - Editor Public
Philippe Bonnel
Managing Editor
France Dimanche
Jean-Baptiste Drouet
Editor-in-chief
France Dimanche