ELLE Decorationis the home design specialist shaped by ELLE brand values. It presents interior trends, designs and styles, reveals future talents, inspires, opens the doors to the world's most spectacular properties... providing an endless source of inspiration for you and your home! 
2 082 963
Readers
ACPM ONE 2017
149 395
Copies
ACPM OJD DFP 2018
690 000
Unique Visitors
ACPM PREMIUM 2017
698 000
Followers
Social Media - January 2019
Since 1987, ELLE Décorationhas provided inspiring and aspirational content with exclusive reports on exceptional venues and bold aesthetic choices. A comprehensive guide to stylish living, the magazine combines presentations of the latest decoration and design trends with introductions to future talents, ideas for your interior and architecture, designer objects, shopping addresses and inspiration for dream escapes… Finally, ELLE Décorationanalyzes tomorrow's world and social changes through housing to help you see the everyday in a better light!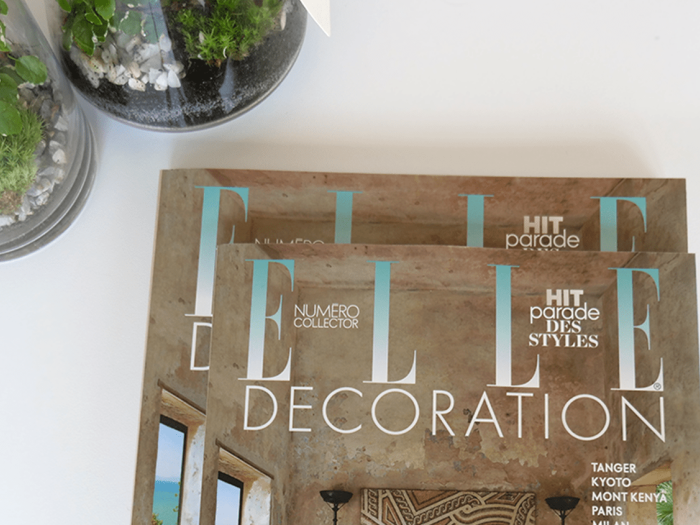 Special Issues : Inspirations & Numero XXL
Subscription
Digital
Promotion
Marketing
Writing
Abonnements ELLE Décoration
Jean-Philippe Siourd
Digital Director
CMI France
Stéphanie Videau-Aphatie
Promotion and PR Director
ELLE, Art & Décoration, ELLE à Table, ELLE Décoration
Ludivine Chaussegros
Head of Brands communication CMI France
Fanny Bellet
Head of Brands Communication - CMI France
Patrick Robin
Sales Director
Art & Décoration, ELLE à Table, ELLE Décoration
Delphine Minor
Advertising Director
Art & Décoration, ELLE Décoration
Danièle Gerkens
Managing Editor
Art & Décoration, ELLE à Table, ELLE Décoration
Clémence Leboulanger
Deputy Editor-in-chief
ELLE Décoration